Good Morning Monterey Bay
Good Morning Monterey Bay, Monday through Friday, is headed up by KSCO Radio's Rosemary Chalmers, aided by Rick O'Shea. Susan Simon, Amanda Font in the newsroom, Rick O'Shea with your King of the Hill Traffic updates, and K.O. with national and local sports.
Good Morning Monterey Bay provides you with tons of up to date, in detail traffic reports, local news, local weather, and boating reports. In their generally light-hearted fashion, the crew will keep you up to date on your local events, in both news and culture, and sports, covering the entire Central Coast.
You will also enjoy regular information on gardening, veteran's affairs, books, movies, cooking, science and astronomy, conspiracies, celebrity gossip, fishing, and information on your pets. You will laugh a lot and sometimes cry, even when you get the good news.

Tune in, and find out what you've been missing. Good Morning Monterey Bay, M-F, 6am-9am.
Santa Cruz City Council contacts...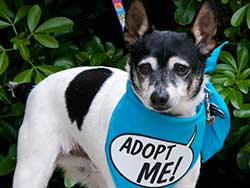 Meet Andy, the dog of the week, from Peace of
Mind Dog Rescue. Click photo for info on adoption!
(831)-718-9122
Katherine Beiers
809 Center Street, Room 10
(831)-420-5020
This email address is being protected from spambots. You need JavaScript enabled to view it.
{MP3remote}http://dev.ksco.got.net/podcasts/GMMB_20120509_070601GMMB2.MP3{/MP3remote} Download File
{MP3remote}http://dev.ksco.got.net/podcasts/GMMB_20120509_060601.MP3{/MP3remote} Download File
{MP3remote}http://dev.ksco.got.net/podcasts/KSCO_20111207_130601.MP3{/MP3remote} Download File
{MP3remote}http://dev.ksco.got.net/podcasts/KSCO_20111207_120601.MP3{/MP3remote} Download File
{MP3remote}http://dev.ksco.got.net/podcasts/KSCO_20110728_080601_GMMB.MP3{/MP3remote} Download File    The celebrity guest of this hour is David Alan Grier.   Veteran comedian and one of the leading forces of the 90's show "In Living Color".   David is a master of comedy.  Check out his website here. http://www.davidalangrier.net/
{MP3remote}http://dev.ksco.got.net/GMMB_KSCO_20110713_060601.MP3{/MP3remote} Download File